Moving a business is not an easy job. It is hard work. Everyone would agree that moving a copier is a big challenge in office moving. With many parts, fragile hinges, and trays, it requires careful planning to ship these sensitive copiers. It also takes professional help to ship copiers with ease, without damaging them and without spending too much money.
Returning the copier to its leasing company or selling the copier machine to another copier owner is one of the customer's responsibilities based on their end-of-term lease obligations. If you leased a copier and its time of returning, the few steps will help you to ship a copier:
Prepare your supplies
Gathering the correct supplies to prepare for moving a copier is an important step. It makes you do the work easily. You will need the following:
Furniture dolly
Heavy-duty packaging tape
Thick bubble wrap
Several sheets of cardboard
Remove and wrap all accessories
The most common parts that you will want to remove are the paper feeder, cords, paper tray, and other accessories that easily bend or be removed. Wrap each part with bubble wrap, at least three inches thick.
Wrap the USB cords, power cords, or any other cords in a layer of cardboard that prevents them from being crimped or damaged during the period of your ship.
Wrap your Copiers
Copiers are delicate equipment that must be protected against impact and environmental damage. Start wrapping the copier with thick bubble wrap. Begin with the top of your machine down until fully covered the whole copier. Secure it with heavy-duty packaging tape. But be careful to select a good tape to be used. Some tapes leave residue and may be hard to remove when exposed to humidity or extreme heat. Tape directly cardboard pieces along the side of the copier that will serve as a protective shell during the period of transport. It is important to package it tightly to avoid breaking off during your move. 
Add another layer
Make sure that everything is all together. You don't want your copier equipment to be missing. Tight together the accessories along with the copier machine and secure it with a full layer of cardboard, all wrapped together using packaging tape.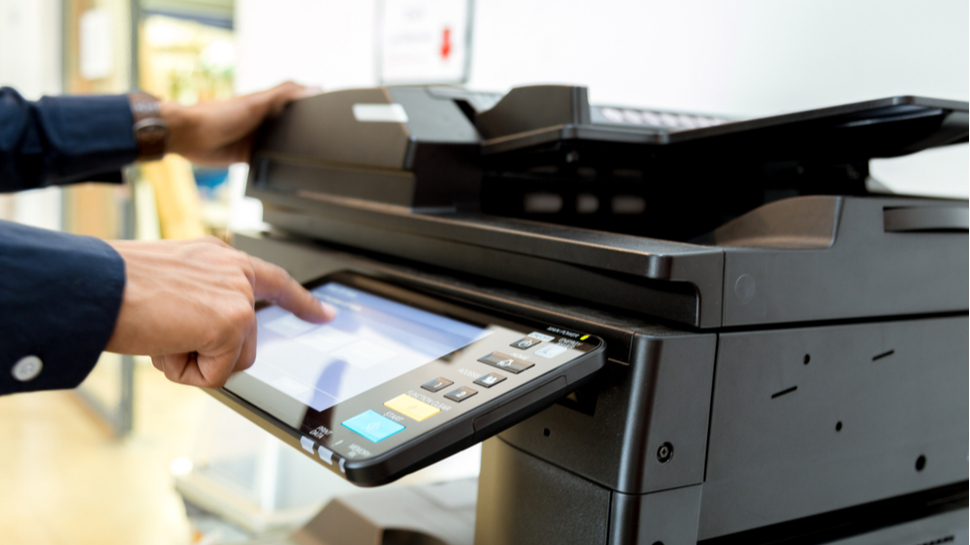 Ship your copier
After done with the wrapping, your copier is ready to be shipped. If your copier is small in size, you may not need a dolly cart to utilize your equipment. But if your copier is large, it is recommended to use a dolly cart to load your copier carefully and safely. You can use straps to hold it securely. At last, your copier will be shipped by moving trucks.
But how much does it cost to ship a copier?
We all want to move our copier machines safely to their designated locations. But how much money you will spend in shipping a copier depends on the following variables:
Weight and dimensions
Most company shippers use dimension weight or DIM weight to calculate and determine the shipping cost. It is calculated by multiplying the height of the package, length, and width. Then divide it with a standard DIM divisor. The heavier and larger the copier is, the more expensive it will be to ship.
Distance
 Shipping zones are the modern way most shipping companies use to calculate shipping rates. These measures the distance from the package's origin to its destination. The higher the shipping zone, the more expensive it is. Distance also includes whether you are to ship locally or internationally.
Delivery time
The choice of your delivery time also affects the cost of shipping your equipment. For example,3 day shipping delivery time will cost you more than those weekly delivery times.
There are variables to consider when shipping a copier. Most business owners choose shipping carriers or companies to deliver their packages. The minimum cost for a single copier is $100.But some companies require you to pay a maximum of $1200 for a single copier. The cost depends on the company because some of them offer you a discount when you ship more than one copier.
If you plan to get copiers for your office in Louisville, you can opt to buy copiers or lease copiers in Louisville We can give you the option to get the copier that you want. You can contact our local copier leasing services department in your location.
If your Location is around Louisville, you may call us at (502) 208-1577, our personnel for copier leasing in Louisville will assist you. If you are also looking for copier repair services in Louisville, you may contact our copier repair personnel at the same number.